From our Clients
Providing the best window treatments and motorization/automation solutions to our clients is our top priority. But don't just take our word on it - here is what some of our recent customers have to say about their experience working with Sensational SEAMS from their point of view.
Sensational SEAMS is here to offer you a high-quality, fun experience in home decorating in Newcastle, ON & surrounding areas. Read testimonials and see what our clients have to say about us!
Sheilagh, City of Kawartha Lakes
I was referred to Wilma and Jamie Kulyk of Sensational Seams by a trusted designer and have been extremely pleased with their expertise, friendly service and high quality products. So much so that we recently completed our second project with them. This project had its unique challenges and Wilma resolved it wonderfully. The Hunter Douglas automated blind and custom made valance she personally designed was a great solution and her wide availability of beautiful fabrics allowed me to choose the perfect one. Jamie's installation was equally perfect as it was on our first project. They make a wonderful team! If you are considering new custom window treatments and want to work with experienced and friendly professionals, I would highly recommend Wilma and Jamie Kulyk of Sensational Seams. You will be very pleased with the end result as I am!
---
Mary Dobos
I found about Wilma through a neighbour..I needed help with choosing flooring for my family room. Wilma is very accomodating and cheerful. She is also very patient and helps me with options. I know that she won't steer me wrong.
Wilma and I chose a beautiful sectional that suits our needs as well as a cabinet for the TV. also, wilma directed me with pictures for the wall and she also hung them with such accuracy!!!
I am very happy with the room. It is comfortable and cozy and updated. My relationship with Wilma has evolved over the years. She is like a friend who I can count on anytime I need to contact her. She has a great sense of humour and we have fun together, while working on various projects.She is a very talented lady!!!!
---
Paul & Sue, Courtice
We had moved into a house this January, with no window covering on many of the windows. We had good experience with Hunter-Douglas shades in our previous house, so were looking for similar products here. Plus some custom side drapes. Wilma of Sensational Seams was recommended by our local real estate agent. We were able to select a quality product for our windows and they were installed professionally a few weeks later. The rooms look much better now with proper window coverings.
---
Barbara and Peter
So sorry to have taken this long to say thank you! Your customer service and pleasant manner needs our thanks. You and Jamie did so much for us more than once. Everything is working well. And l should tell you I am still feeling good about you saying the video I did was awesome!! Had to brag to our grandsons about that. I do like your website with examples of your creativity.
---
Lois
Just a short note to tell you that Keith was watching his Sunday morning TV program in our sunroom today with the new blind you installed covering the door/window. He said there was NO reflection and his problem is solved! Thanks to you.
---
Barb and Richard in Cobourg
We had Wilma design our drapes in Whitby so when we moved there was no one else we would contact. Our new drapes are just fabulous and with Wilma's design expertise, we chose drapes and colours that instantly transformed our room.
We had arranged for painters coming later in the day for a quote to change the wall colour. When we saw the drapes and how fantastic they looked we called and canceled the painter!
Wilma and Jamie do a fantastic job installing the new drapes which they also installed in our office and front living room. So professional.
Just the nicest couple, who are honest and respectful and who take pride in their work and business.
---
Connie, Rich and Lucie Owen, Newcastle, ON
After a week of getting accustomed to fresh new valances in the family room, I realize that we hadn't yet sent our appreciation for the effort and time both of you put into creating and installing these draperies.
Many thanks for the expeditious completion of the work involved. Also, we thank you for the thoughtful lagniappes - already the tulips are planted and those KD cloths we find are very useful.
Once again, we send our thanks and wish you and yours many joys (we hope people will find again) in the upcoming Christmas season.
---
Eliana and Barry Wheeler
We moved into a condo in 2018 and we were so fortunate to find Wilma Kulyk - Sensational Seams.
We knew what we wanted for our bedroom window but was at a loss what we wanted for the other window and patio door.
Read More
Wilma suggested we come by her Show-room to meet so that we could see her product lines. Amazing! She had full size curtains and blinds set up on her windows and other display areas so that we weren't looking at little samples. You could touch and see the operation of the products too.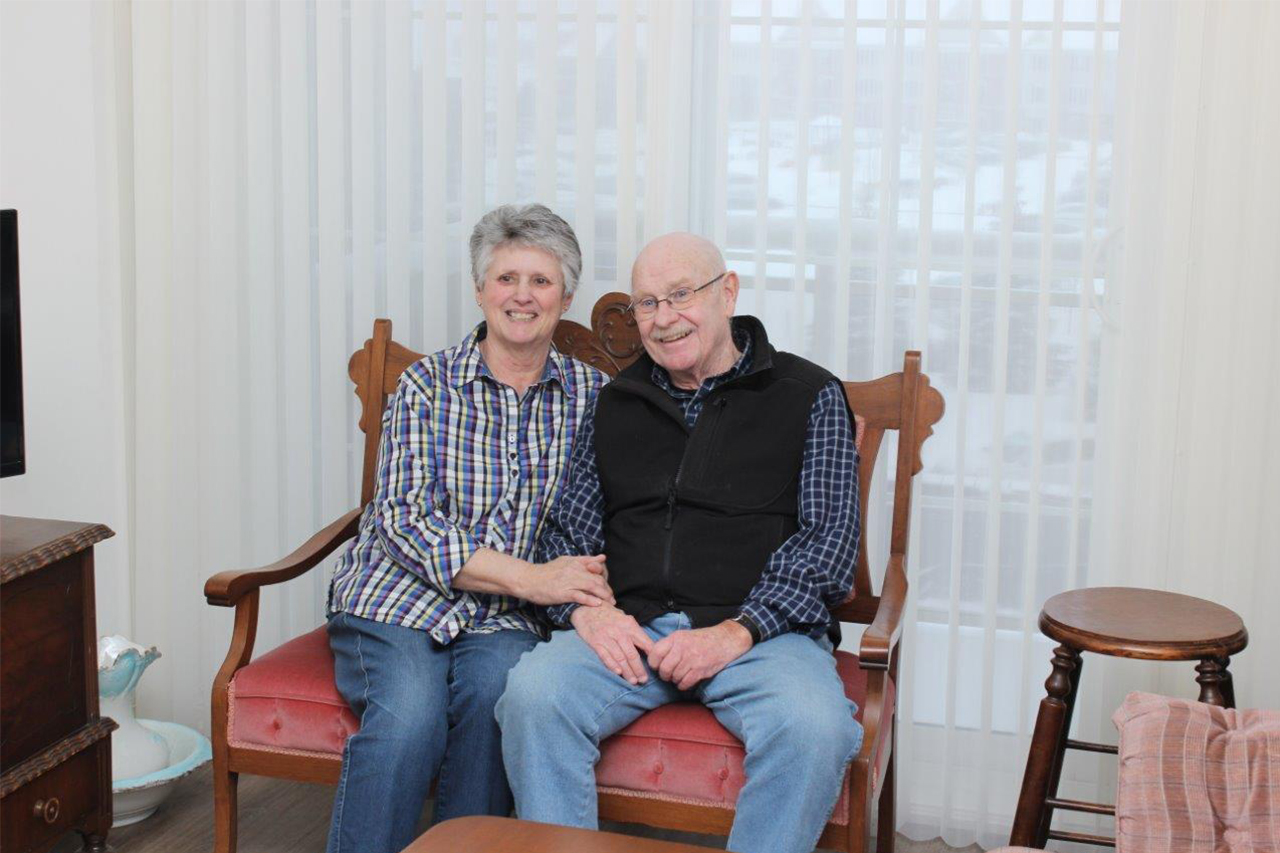 Wilma showed us the Hunter Douglas Palm Beach Shutters that I wanted for the bedroom window. She explained the different options for this unit and pricing. We got just what we wanted…No centre bar…adjustable top and bottom to let light in or keep light out. Easy to clean, both sides with a duster or damp cloth.
Next was out little room and small window. For this we chose Hunter Douglas Silhouette and Nantucket. Easy to operate and dust.
The Patio window was the hardest to decide. We didn't want to live in three boxes (what the condo felt like at first) and wanted our windows to reflect our taste. Looking around the showroom I saw just what I wanted. Hunter Douglas Luminette Privacy Sheers. They are actually vertical blinds with a nice sheer over the verticals. It looks just like my sheers I had in my house. Wilma explained the different options for this unit. Lots of choices! We opted for the 'motorized system' so that we can decide later about adding side curtains or valence.
After living with our new window coverings for a year we have to say that we still love our sheers, blinds and shutters we chose from Sensational Seams. AND the installation was efficiently handled with great care by Wilma's husband, Jamie.
Thank you Wilma, for all your support and expert advice to help make our little condo our home.
---
Karen Kemp, Bowmanville
"OMG! Love, love, love.... I cannot say enough good things about Wilma and her help. She recommended a better colour and also solved for me the handles on the windows that stuck out. Who knew??? Wilma did. She also installed the blinds. We were very pleased with the speed, efficiency and quality of everything. What does this new look mean to you and how has it changed the way you view your home? We now have complete privacy in the front of our home and you can see through the blinds during the day which is amazing."
---
Peter aand Barbara Bolton
Having now found Honeycomb window treatments from Sensational SEAMS we discovered the solution to our bedroom window treatment. The Hunter Douglas product is wonderful. The drop down option with the Honeycomb blinds is so useful.....we use it for both light along with the windows being open. The dark that the blinds provide is pretty amazing......I feel I am sleeping better because of this. There was colour change after our original selection which meant another home visit from Wilma to make sure we got it right. We were so well looked after!! Wilma cares about her clients and will go the extra mile to see that everything is done right. We felt so well looked after.....with both our projects. As well as window treatment we had a chair upholstered. This chair has been given a real lift and now fits in nicely with the rest of the furniture!
---
Tina
Enjoying the chairs very much! Lots of compliments - all good.
Took Bill a while to get used to the change but is very happy now.
A Happy customer.
---
Jan F
We decided to renovate our Master Bathroom. Wilma came advise first, then choices of tiles, lights, window treatments, new shower, new vanity, toilet, new fixtures, new paint, new lighting, new flooring. We could not be more pleased and thrilled...better than we had hoped and more than we had even dreamed. We had a great support team....coordinated by Wilma, an amazing contractor .....we felt that they cared that we would be happy.WE ARE
---
Gillian B Newcastle
We are so happy with the finished project! New life has been given to my Grandmother's loveseat and can be enjoyed for many years to come! Our updated love seat brought a modern vintage feeling to our daughters bedroom while keeping a very special sentimental piece of furniture in the family.
---
Happy Homeowners Pickering
"Exceptional! That is the most fitting description for Wilma Kulyk and Sensational Seams in every respect. From the moment we met Wilma she was not only vibrant and engaging, she had a rare combination of professionalism, expertise, efficiency while very open to any special requests and budget – and all with good humour. The service and quality are superb and we are absolutely delighted with our new window treatments. Wilma does indeed "make decor fun!" and Sensational Seams is now our #1 choice!"
Bless you!
---
Dale & Dan
We have used Wilma @ Sensational Seams a few times previously, and were so happy and impressed with the results that she was the only person we would select for future window treatments. We have recently re-done our kitchen and needed a new window treatment for it. Wilma provided her expert advise and selected an exceptional choice of blinds and valance for our kitchen window, that both compliment and dazzle the room's décor. As per usual, she chose well and her expert skills in sewing and design are now evident throughout our home.
Wilma installed our treatment professionally and with utmost care. She cleaned up after her work so that there was absolutely no evidence of the installation afterward. We cannot speak more highly of Wilma and her team, and in fact have recommended her to neighbours & friends, and will continue to do so.
Reviews As usual, superb service and advice from Wilma and her team. We will be using her services again for two more window treatments very soon, and know that these will be equally as lovely and suitable for each room. Outstanding job, Wilma, yet again - with our thanks!
---